This post may contain affiliate links. If you click on a link and make a purchase I earn a small commission at no extra cost for you.
My search for a new sleeping pad had multiple reasons. My wife and I were going to Havasupai once again and the previous year I used one of her sleeping pads. I'm usually the kind of guy to just lay my sleeping bag on the ground and fall asleep but my wife wasn't about to let me keep doing that. Packing my bag, I realized how big her sleeping pad was. Really it wasn't enormous, and it could fit in my backpack just fine, but I wanted to find something more compact. I'm looking at making a change in careers that means I'll be living out of a backpack for a potential of multiple days at a time and I wanted something light that wouldn't take up much space.
In my mind I knew that the technology had to be there, this is almost 2020 and I feel like there are thousands of people creating new businesses and creating better products every day. I searched online for a compact sleeping pad but the problem with online searches is that it gives you full dimensions of sleeping pads and not packed away dimensions. I also tend to be skeptical of online searches when I'm looking for something specific. The only time I'll take a gamble is if it's on Amazon since they have such a good return policy. This time, I didn't have time on my side. I had been working nonstop with little time for hunting or even for prepping. Luckily, I tend to be a minimalist when it comes to camping and hunting, so I didn't have a ton of work ahead of me. Tangent aside, I decided that the best way to find a compact sleeping pad would be to go to a sporting goods store directly.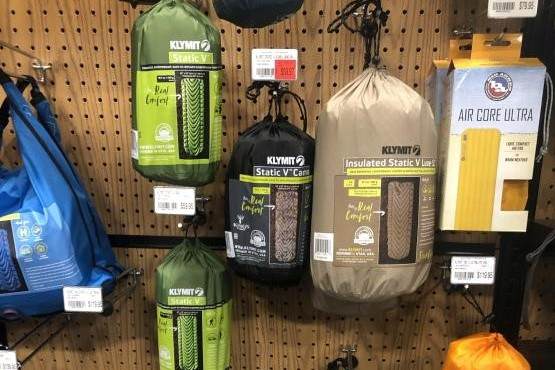 First Impressions
Walking up to the sleeping pad section, I was at first disappointed. I didn't want a sleeping pad to attach to my backpack. That would defeat the purpose. As I thought "There's no way the technology isn't there" I walked around to the other side of the display and found Klymit Sleeping Pads.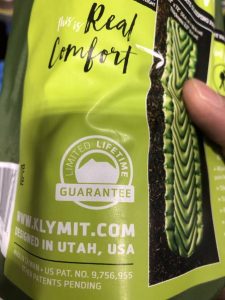 My first impression was that multiple options fit my size parameter. My next thought was that the price would be impossible on a last-minute budget. Instead, I was surprised to see that It wasn't going to break the bank. All the options I looked at were very compact. They had Hammock sleeping pads, insulated pads, couple pads, and ultralight pads. The open dimensions differed enough that I saw a potential fit for anybody.
The prices were all great. The super-light option was the most expensive. They were about 100 bucks and out of my budget. Insulated sleeping pads seem to be a little more expensive, but I figure I do fine without it. I tend to bundle up when sleeping out anyways. Either way, the most expensive options were about what someone would pay for a decent sleeping pad that's compact. If you can call the competition compact. I picked up the Static V for $59.95. It seemed to be the standard model and the size was impressive. I took it and put it in my hat I was wearing. It was sure to create more room in my pack. It seemed to fit what I needed perfectly. The specs on the Static V seemed to also fit the bill. It was 6 feet long and almost 2 feet wide. In my mind, a size that would cover most of the population. Folded down it measured 3 inches by 8 inches, and it weighs just over a pound. Let me know when you think of something that weighs a pound.
First Use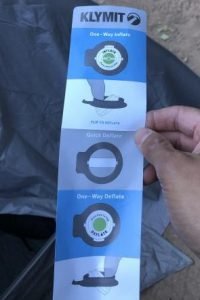 I didn't unpack it before heading down to Havasupai. Part of the reason was that I feared to ruin this magically small sleeping pad and unfolding it and seeing it become a secrete king size mattress that I would have to find a way to fold back down. When I finally went to set it up, I liked the instructions that came with it. They would come in handy down the road. It had an inflation valve on the top right corner. It has this cool one-way inflation valve that had me questioning its ability to do the job. I'll get back to the valve later.
The instructions advertised that it would take between 10-15 breaths to fill it up. Turns out it took me 11 breaths. Once setting it in my tent I laid down on it. When I first knelt on it, I could feel the ground below me. My wife even noticed it and asked me if I thought it would hold up. I guess only time would tell. Laying on it, I magically was floating on air. That's the best way I could describe it. Magic. I'm sure the technical term is supported or something, but I was held up no matter which way I laid down.
Two things I noticed instantly is that I underestimated the size that I needed. I feel like I'm average at 6 feet tall and weighing 195 pounds, but I guess my shoulders are a little wider and they would hang off the side of the sleeping pad. My feet also hung off the bottom. I didn't account for the fact that no one sleeps with their feet straight up, especially belly sleepers. Shopper error takes that one, nothing that Klymit is responsible for. I do remember there being other options on sizes, and I guess I need one slightly bigger. Not that it would really take up too much more space in my backpack.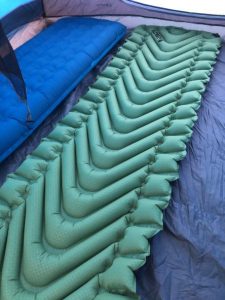 The first night the Static V held air just fine. All the doubts went away. The only thing I wish is that there was a way for me to release some air. I like soft mattresses and if I'm going to spoil my self with a sleeping pad, I want to make it as comfortable as I can make it. The second night I was still impressed. It held air perfectly and I didn't even feel like there had been a leak at all.
No matter what position I chose to sleep in, I felt perfectly supported. Even with the temperature changes from morning to night, I felt like there was no pressure difference. On the third night, there were still no changes. In contrast, I got woke up every night by my wife blowing air into her sleeping pad.
Packing the Klymit Static V away was simple. The inflation valve is also the deflation valve that works as a one-way valve. The third position is between inflation and deflation setting. I immediately thought it was a pretty genius design. I've used a foam pad with a valve and rolling it and bleeding the air was fine but a pain. I've used a sleeping pad similar to my wife's and it worked fine but with it wide open to deflate, I kind of felt like I fought some air coming back into it.
The valve design that Klymit uses is genius because I could bleed most of the air all at once. Then I was able to start folding the sleeping pad and I switched it to the one way deflate valve. This allowed me to fold it super tight and small with no air in it. This was simply genius and time saving. My only wish was that they had lines drawn on the sleeping pad itself to guide someone in folding it back up. It was easy enough to figure out, but it would make it even easier.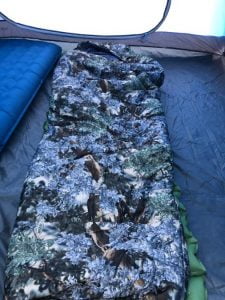 Summary
The size of the Klymit Static V sleeping pad was perfect. It literally fits in my hat. The weight is super light, and this wasn't even the ultralight model. Not sure I'd spend the money on the ultralight model unless I had a really crazy reason to cut my weight down more. Using it was super easy. From unfolding it to blowing it up and taking it all back down it was extremely user-friendly. The instructions on how to use the one-way valve were super simple and sure helped.
The sleeping pad held air all 3 nights with us dipping below 30 degrees every night and getting to 70 degrees during the day. Sleeping on it was super comfortable. The only complaints I have are really on my own. Nothing of Klymit's fault. I underestimated the length and width that I needed. Having some lined to assist in folding would be nice but not a necessity. The only other thing was I wasn't a fan of the valve being next to my head but really, I'm nitpicking. I was afraid of turning it over and damaging the valve on an unseen rock or something.
At the end of the day, I'm happy with my purchase and I'd recommend for everyone to throw away their sleeping pads and get one of these, or one that fits them better from Klymit. 100% worth every penny spent. Don't forget, there's also a lifetime warranty and I only paid 60 dollars for it all.
Last update on 2023-11-23 / Affiliate links / Images from Amazon Product Advertising API