This post may contain affiliate links. If you click on a link and make a purchase I earn a small commission at no extra cost for you.
Do you have a great sleeping bag but you still feel worn out in the morning and your back is sore? The best sleeping bag may be useless without a quality sleeping pad. When lying in the sleeping bag it gets compressed under your body weight and insulation and comfort underneath you are lost.
So a quality sleeping pad is just as important as a good sleeping bag whether you are on an expedition of on a family camping trip. It cushions you from small stones and branches and insulates you against heat loss to the ground
Selecting the best sleeping pad for camping
When you are looking for the best sleeping pad, you need to consider similar criteria as when looking for a sleeping bag.
warm: (R-value): good insulation from the ground
durable: the mat is used outdoors it should last
lightweight: less to carry – gets you further
packable: already enough stuff in your pack
comfortable: well-rested for the next day
no noise: when the mat squeaks with every movement you don't rest well
slip: the best sleeping pad does not help if you are half the night next to the mat
Insulation – The R-value
Besides being comfortable when lying down on, the most important feature of a sleeping pad is proper insulation against cold from below. The thicker the more insulation,  but also the surface texture and the structure play a role. A Honeycomb structure, for example, provides higher insulating performance. To identify the insulation properties of mattresses, the so-called R-value is used, which stands for the thermal resistance of a material or how a material conducts heat. The higher the R-value of a sleeping pad, the better the insulating.
R = 1: for 3 seasons, warm nights
R = 2: for 3 seasons, temperate nights
R = 3: 3 to 4 seasons, cooler nights
R = 4: 4 seasons, suitable for winter
R = 5: alpine winter bivouacs
R = 6: extended winter trips
Different sleeping pads for different requirements
Foam pad
Self-inflating Pad
very comfortable Air Pad
Foam Pad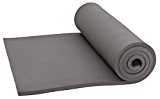 Foam pads are the simplest sleeping pads, they are made of polyethylene foam (PE). Pay attention that you buy one made of high-quality closed-cell foam. If the foam is of lower quality they wear out quickly and thus lose its insulating effect. Higher quality mattresses made of closed-cell polyethylene foam and are more elastic and pressure-resistant. They also do not soak up water when getting wet.
Foam mats are generally very tough and are less sensitive to punctures, stones and the like. Foam pads differ in terms of insulating performance depending on thickness and the surface. A dimpled or waffle structure creates voids between mat and sleeping bag, which increase the insulation factor. They are cheap to manufacture, thus cheap to purchase. They are, however, not the most comfortable when compared to self-inflating pads or air pads.
Advantages:
Foam pads are lightweight and robust, cheap to buy.
Disadvantages:
Bulky when packed
Provide less insulation as the latter two.
Self-inflating sleeping pads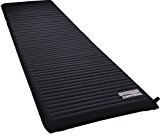 The most popular sleeping pads are self-inflating mats. They use a combination of open-cell polyurethane foam insulation and air for cushioning enclosed in an air-tight envelope.  For transport, the sleeping mat is easily rolled up while the air is pressed out of the foam and the channels. To use it, simply open the valve, allow air to enter and the pad will inflate itself to its original shape as the pores and channels are filled with air.
Compared to conventional foam pads, the self-inflating mat offers the advantage of greater thickness, more comfort, and insulation from the cold ground. The insulation pad should be at least 2 fingers thick, but anything more than 4 fingers thick will not increase sleeping comfort notably anymore. But not only the thickness is responsible for the sleeping comfort of the mat. The structure and material of the foam play a crucial role too.  The best sleeping pads may target the foam to certain regions of the body for support while it is a little softer and more compliant in other areas. Don't forget to consider the weight and packing dimensions. Look at the surface texture to minimize slippage especially when used on not entirely flat ground or if you are a restless sleeper.
Advantages:
Self-inflating sleeping pads provide good insulation and are comfortable to sleep on
They can be rolled up tightly and strapped to your backpack
Even when punctured, the mat will still provide some insulation
Disadvantages:
They are a bit heavier than foam mats and cost more
Air Pad, the most comfortable sleeping pad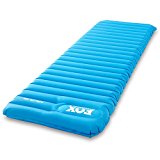 These air construction sleeping mats are the most comfortable ones for backpacking. They are modern high-tech camping mats, which are made from air-tight, extremely lightweight laminates. The air chambers of those mats are filled with down or microfiber so they provide much higher insulation (R-value) than foam mats or self-inflating mattresses.
However, the need to be handled with more care, as they can be punctured or ripped easily. When damaged they deflate and their insulation is gone. Make sure you use them with a protective pad (groundsheet, tarpaulin, etc.) If you going remote or at a very low temperature you must have a repair kit or even a spare sleeping pad with you as the repair kit won't help with large-scale damage or valve problems.
Advantages:
Air pads provide very good insulation to weight ratio and packing size
They're very comfortable to sleep on
Disadvantages:
They must be actively inflated
Care must be taken to not accidentally puncture them
High price.
Sleeping Pads Summary
Chose a sleeping pad wisely depending on your physical needs, to thin is useless (though still better than no mat). Look for a good compromise between function and comfort.
You want the pad to be:
Lightweight
Small packing
Good protection against cold
Protection against rocks and hard ground
High lying comfort
Tips
Before pitching your tent,  unpack  the sleeping pad first as it takes a while to inflate
Careful when inflating by mouth with frost, moisture in your breath may cause ice crystals that damage the foam
On long trips or remote, have a repair kit with you or even a spare pad in the group
In hot weather leave the valve open to avoid damage by heat-induced pressure, keep it out of the sun
Never store the mat rolled up over a longer period, always spread it at a dry place with the valve open