This post may contain affiliate links. If you click on a link and make a purchase I earn a small commission at no extra cost for you.
Do you have a great sleeping bag but you still feel worn out in the morning and your back is sore? The best sleeping bag may be useless without a quality sleeping pad. When lying in the sleeping bag it gets compressed under your body weight and insulation and comfort underneath you are lost.
So a quality sleeping pad is just as important as a good sleeping bag whether you are on an expedition of on a family camping trip. It cushions you from small stones and branches and insulates you against heat loss to the ground
Selecting the best sleeping pad for camping
When you are looking for the best sleeping pad, you need to consider similar criteria as when looking for a sleeping bag.
warm: (R-value): good insulation from the ground
durable: the mat is used outdoors it should last
lightweight: less to carry – gets you further
packable: already enough stuff in your pack
comfortable: well-rested for the next day
no noise: when the mat squeaks with every movement you don't rest well
slip: the best sleeping pad does not help if you are half the night next to the mat
Insulation – The R-value
Besides being comfortable when lying down on, the most important feature of a sleeping pad is proper insulation against cold from below. The thicker the more insulation,  but also the surface texture and the structure play a role. A Honeycomb structure, for example, provides higher insulating performance. To identify the insulation properties of mattresses, the so-called R-value is used, which stands for the thermal resistance of a material or how a material conducts heat. The higher the R-value of a sleeping pad, the better the insulating.
R = 1: for 3 seasons, warm nights
R = 2: for 3 seasons, temperate nights
R = 3: 3 to 4 seasons, cooler nights
R = 4: 4 seasons, suitable for winter
R = 5: alpine winter bivouacs
R = 6: extended winter trips
Different sleeping pads for different requirements
Foam pad
Self-inflating Pad
very comfortable Air Pad
Foam Pad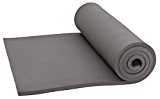 Foam pads are the simplest sleeping pads, they are made of polyethylene foam (PE). Pay attention that you buy one made of high-quality closed-cell foam. If the foam is of lower quality they wear out quickly and thus lose its insulating effect. Higher quality mattresses made of closed-cell polyethylene foam and are more elastic and pressure-resistant. They also do not soak up water when getting wet.
Foam mats are generally very tough and are less sensitive to punctures, stones and the like. Foam pads differ in terms of insulating performance depending on thickness and the surface. A dimpled or waffle structure creates voids between mat and sleeping bag, which increase the insulation factor. They are cheap to manufacture, thus cheap to purchase. They are, however, not the most comfortable when compared to self-inflating pads or air pads.
Advantages:
Foam pads are lightweight and robust, cheap to buy.
Disadvantages:
Bulky when packed
Provide less insulation as the latter two.
Self-inflating sleeping pads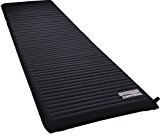 The most popular sleeping pads are self-inflating mats. They use a combination of open-cell polyurethane foam insulation and air for cushioning enclosed in an air-tight envelope.  For transport, the sleeping mat is easily rolled up while the air is pressed out of the foam and the channels. To use it, simply open the valve, allow air to enter and the pad will inflate itself to its original shape as the pores and channels are filled with air.
Compared to conventional foam pads, the self-inflating mat offers the advantage of greater thickness, more comfort, and insulation from the cold ground. The insulation pad should be at least 2 fingers thick, but anything more than 4 fingers thick will not increase sleeping comfort notably anymore. But not only the thickness is responsible for the sleeping comfort of the mat. The structure and material of the foam play a crucial role too.  The best sleeping pads may target the foam to certain regions of the body for support while it is a little softer and more compliant in other areas. Don't forget to consider the weight and packing dimensions. Look at the surface texture to minimize slippage especially when used on not entirely flat ground or if you are a restless sleeper.
Advantages:
Self-inflating sleeping pads provide good insulation and are comfortable to sleep on
They can be rolled up tightly and strapped to your backpack
Even when punctured, the mat will still provide some insulation
Disadvantages:
They are a bit heavier than foam mats and cost more
Air Pad, the most comfortable sleeping pad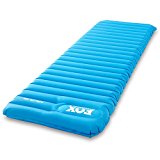 These air construction sleeping mats are the most comfortable ones for backpacking. They are modern high-tech camping mats, which are made from air-tight, extremely lightweight laminates. The air chambers of those mats are filled with down or microfiber so they provide much higher insulation (R-value) than foam mats or self-inflating mattresses.
However, the need to be handled with more care, as they can be punctured or ripped easily. When damaged they deflate and their insulation is gone. Make sure you use them with a protective pad (groundsheet, tarpaulin, etc.) If you going remote or at a very low temperature you must have a repair kit or even a spare sleeping pad with you as the repair kit won't help with large-scale damage or valve problems.
Advantages:
Air pads provide very good insulation to weight ratio and packing size
They're very comfortable to sleep on
Disadvantages:
They must be actively inflated
Care must be taken to not accidentally puncture them
High price.
Sleeping Pads Summary
Chose a sleeping pad wisely depending on your physical needs, to thin is useless (though still better than no mat). Look for a good compromise between function and comfort.
You want the pad to be:
Lightweight
Small packing
Good protection against cold
Protection against rocks and hard ground
High lying comfort
Tips
Before pitching your tent,  unpack  the sleeping pad first as it takes a while to inflate
Careful when inflating by mouth with frost, moisture in your breath may cause ice crystals that damage the foam
On long trips or remote, have a repair kit with you or even a spare pad in the group
In hot weather leave the valve open to avoid damage by heat-induced pressure, keep it out of the sun
Never store the mat rolled up over a longer period, always spread it at a dry place with the valve open
Bestseller No. 1
VENTURE 4TH Self Inflating Sleeping Pad - No Pump or Lung Power Required - Warm, Quiet and Supportive Mattress for a Comfortable Night's Sleep - Compact and Ultra Light Mat (Blue/Gray)
✅ GET A GREAT NIGHT'S SLEEP : Whether you sleep on your back or your side, our full-length pads measure 72 inches x 22 inches for HEAD TO TOE COMFORT. At 1.5 inches thick with puncture proof 75D polyester outer shell, you can even sleep on rocks and roots
✅ QUICK EASY INFLATE: The 500 series pneumatic valve quickly and reliably inflates the sleeping mat saving you time and lung power. Unroll the pad, open the valve and the un-compression action will pull air through the valve with a distinct hiss. Once the hissing stops, add additional air with a few puffs to your desired comfort level and twist the valve to lock.
✅ BACKPACK FRIENDLY : The tapered design saves weight and reduces volume for EASY PACKING . Easy to roll up and PACKS DOWN SMALL just 11 inches high x 7 inches . The handy carrying bag makes transport a breeze . It's LIGHTWEIGHT WITHOUT SACRIFICING SUPPORT
✅ KEEPS YOUR BODY WARM : Pad provides a much needed protective layer from the cold below . It INSULATES YOU FROM THE GROUND CHILL and prevents heat loss so you stay warm and toasty . With a R-value of 4 , this pad is perfect for winter camping trips and high altitudes
✅ MONEY BACK ASSURANCE : Our sleeping mats are ENGINEERED TO LAST and backed by our Lifetime Warranty . In the unlikely event you're not happy with your purchase , we'll give you your money back , no questions asked . So order now , risk free
Bestseller No. 2
WELLAX UltraThick FlexFoam Sleeping Pad - Self-Inflating 3 Inches Camping Mat for Backpacking, Traveling and Hiking - 3inch Thickness for Better Stability & Support
WELLAX COMFORT PLUS SLEEPING PAD provides the optimal Comfort and Warmth your body needs for getting a good night's rest. Make your camp mornings perfect - NO MORE Back-pain or annoying Discomfort from rocky terrain or bumps underneath during your sleep as your weight is supported by the UltraFlex Memory Foam mattress. Roll over or sleep on your side on a WellaX Camping Mat and you won't wobble or bottom out.
COMPACT and LIGHTWEIGHT: Self-inflating convenience meets air mattress comfort to create the perfect camp mattress for you. The high-loft comfort (3" inch thick), the compactness (27"x8"), the convenience and the increased 9.5 R-Value. Your hiking trips will be comfortable and you will be sleeping like in your own bed. Inflated size is 77" x 28" x 3", perfect for any outdoor activity like backpacking, traveling or camping;
REVOLUTIONARY DESIGN - TEAR RESISTANT: Laminated 20D Rip-stop Nylon and the TPU Layer, used only for strongest camping equipment. Provides a good balance between comfort and durability. It is Virtually SILENT, WATERPROOF, abrasion / tear resistant and reflects back radiant heat to the sleeper. No more crinkly or squeaky noise, your perfect pad for using in your tent, sleeping bag, or any floor or hard surface;
EASY TO INFLATE AND DEFLATE: Advanced SELF INFLATING technology that includes 2 valves, making it quicker to inflate or deflate. Say goodbye to your old sleeping pad that required either a pump or lots of breaths and effort to inflate. The PATENT PENDING WellaX Sleeping Pad has a R-value of 9.5, making it the perfect All-Season Mat;
NO RISK PURCHASE - Making you a happy customer is our main goal. Just try it, and if you don't absolutely Love it, send us a message and we will Refund or Replace your Purchase, NO QUESTIONS ASKED
Bestseller No. 3
WILD FUN 2 Person Double Self-Inflating Sleeping Pad with Pillow,Lightweight,75" x 52" Sleep Mat, Moisture-Proof Camping Pad, Perfect for Hiking & Backpacking (Olive Green)
2 PERSON SLEEPING PAD - this sleeping pad is designed to accommodate 2 adults comfortably.The Self-Inflating Sleeping Pad with Pillow is a portable air mattress pad that is inflatable to 75" x 52" x 1.5"
HIGH QUALITY - the Sleeping Pad is made with 190T polyester taffeta, density increased, feel more softer, so you can get a comfortable sleep and have a sweet dream.
SPONGE FILLING - Contain 1.5 inches thick good quality foam inside, comfortable to lying on the self inflating sleeping pad.
AUTO INFLATING - Please open the inflatable cushion valve placed for 24 hours to make it back to the prototype. For the first time to maintain the self-inflated state of 30-60 minutes until the inflatable cushion slowly
SLEEPING PAD FOR CAMPING - Our open-cell foam inside the pillow and sleeping pad pairs with a sleeping bag, tents, straps, hammock, chair, camping mat, and outdoor sleep gear for camp, travel, hiking, fishing, kayaking, and backpacking. The removable self-inflating pillow provides comfortable support compared to an ordinary, inflatable pillow. Ideal for adult traveler, men, women, kids, boys, girls, friends, and family.
Bestseller No. 4
Ryno Tuff Sleeping Pad Set, Self Inflating Sleeping Pad with Free Bonus Camping Pillow, The Foam Camping Mattress is Large, Comfortable and Well Insulated, Yet Compact When Folded (Sleeping Pad Set)
GET A GOOD NIGHTS SLEEP ON THE MOST COMFORTABLE SLEEPING MAT- The 2 inch thick, foam pad will protect you from the cold and uncomfortable ground. When fully blown up the camping pad reaches 75 inches long by 24 inches wide. Perfect for bike and car camping, trekking or backpacking. IMPORTANT NOTE: While the pad is self-inflating, it only self inflates enough to provide excellent insulation, however, you can control the exact firmness of the pad by blowing into the valve.
REAL INSULATION FOR REAL CONDITIONS - Did you know that the temperature rating of your sleeping bag is calculated with a sleeping pad underneath, so if you are done with cold uncomfortable nights while camping in your tent or hammock, then you need to get this camping mattress. The thick air-cell foam insulation provides an R-Value of over 4 and a firm and comfortable surface almost like your mattress at home.
ALL WITHOUT ADDING TOO MUCH SPACE AND WEIGHT. The self-inflating sleeping pad and camping pillow TOGETHER will weigh less than 4 pounds and will measure about 7 inches in diameter and 17 inches in height, when rolled up. That is amazing packability. You can use the unique snaps to combine two sleeping pads together to create an even wider sleeping surface or to connect one sleeping mat underneath the other to create a thick camping mattress.
BUILT TO LAST. We used only the best and the strongest materials to ensure long lasting durability and water resistance. The foam insulation is covered with 75D polyester which means incredible toughness. The Pillow is made with similar 210T ripstop polyester. However, if you still have any concern, we do offer a "Lifetime Warranty" so any time your camping pad or pillow malfunctions during normal usage we will replace them free of charge.
PLANT A TREE AND HELP US SAVE THE PLANET! Yes, we are tough on the outside but inside we're just real softies. In addition to providing you with quality products, our mission is to protect the planet we live on, especially its forests. We want to preserve the beauty we enjoy for the next generation. With every purchase at Ryno Tuff we will plant a tree for you through the National Forest Foundation.
Sale
Bestseller No. 5
Sleepingo Camping Sleeping Pad - Mat, (Large), Ultralight 14.5 OZ, Best Sleeping Pads for Backpacking, Hiking Air Mattress - Lightweight, Inflatable & Compact, Camp Sleep Pad
2" THICK SLEEP SUPPORT! YOU WILL LOVE THIS SLEEPING PAD! Want to sleep comfortably anywhere? No need to suffer with a cheap flimsy short outdoor sleeping pad! This quality portable camping mat pad is perfect. Super sturdy and extremely comfortable. Great for any sleep position.
WEIGHS ONLY [14.5 OZ] AND PACKS DOWN TO THE SIZE OF THIN WATER BOTTLE - PERFECT FOR A BACKPACKING SLEEPING PAD! No worrying about room in your backpack No backaches due to heavy weight very convenient to carry. You'll wish you found this years ago Comes with a sleek storage pouch.
THIS TOUGH DURABLE LARGE COMFY SLEEPING PAD FEATURES A LIFETIME WARRANTY! - Economically and practically efficient With an impressive size blown up of 75 X 23 this camping mattress pad, will give you the comfort you need.
TEAR RESISTANT - HEAVY DUTY RIPSTOP NYLON FABRIC – This lightweight sleeping pad is made of super strong waterproof and camping grade ripstop nylon fabric With a impressive 20 denier thickness used only for the strongest camping equipment designed to last a lifetime in the most severe conditions.
HASSLE-FREE LIFETIME REPLACEMENT - NO NEED TO RETURN! We take pride in our perfect customer service record on Amazon, and we promise to treat you like family - even for gifts! In addition to our lifetime replacement, if you aren't happy with your purchase, we will simply refund your money - no questions asked - just let the reviews speak for themselves!
Last update on 2020-08-12 / Affiliate links / Images from Amazon Product Advertising API