Hiking is great fun and an experience in every season. Clear air, pure nature, the physical challenge, snowy mountains in winter, flowering meadows in spring, birds singing in summer, the rustling of golden leaves in autumn. Every season has something different to see and to experience. To have fun and enjoy the weather, the right clothing for hiking is essential.
What to wear when Hiking
Clothing for outdoor activities, whether leisure or extreme, must be functional, practical, and meet the challenges the environment demands. If you wear appropriate footwear, functional underwear, thermal wear, hiking pants, and have a rain or wind jacket in your pack, you are not so vulnerable to the forces of nature.
Functional Clothing, hiking wear for every season
Functional clothing is outdoor wear that is made of fabrics, which have certain properties in terms of body temperature regulation, comfort, and shielding the wearer from wind, rain, and cold. Those synthetic fibers dry faster and warm better and are often windproof, partially water repellent, all properties which are a big plus over conventional materials.
Staying warm and dry when hiking in Winter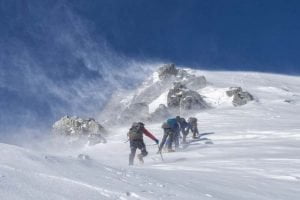 When hiking in winter, staying warm and dry is what you want.  When choosing what to wear in winter, you have to expect moisture due to weather as well as moisture caused by sweating. Moisture and wet clothes speed up temperature loss.
A good Hardshell Jacket protects against the weather, is breathable, and allows for several layers of insulation underneath it.
Dressing in layers has proven to work best in winter. Select three or more layers of clothing that can effectively transport moisture away from the body while at the same time keeping body heat in.
Dress In Layers
The first layer should consist of functional underwear. It wicks moisture away from the body passing it on to the next layer. Cotton underwear is not that suitable as it absorbs and retains moisture and forms a clammy layer which may not only feel uncomfy but cools the body too. Synthetic fibers such as polypropylene or polyamide do not retain moisture. Functional underwear should fit snugly to the body to be for optimal benefit.
The second layer should be a breathable fabric that works well insulating and keeping the heat in and transports moisture further away from the body. Light fluffy fabrics such as fleece and ….  are suitable. You may add a "second" second layer if extreme cold demands.
The third layer shields you from the environment wind, rain, and cold. Jackets or parkas that have a waterproof but breathable shell in combination with a "pad" of an insulating material such as down or a synthetic microfiber. Down is light and insulates well, but is more sensitive to moisture, Synthetic fibers repel moisture and insulate even when wet.
A good hat that keeps your head warm is one of the most important items to reduce heat loss. Low temperature and windchill let you lose a significant part of body heat over your head.
Gloves are an absolute must. Hands and fingers cool out easily and are prone to painful frostbite in harsh environments. Keeping hands and fingers warm assures they remain "useful" when you need them, survival depends on them.
Winter hiking boots are just as important, if your feet are cold and frostbitten it is hard getting somewhere. Boots must be chosen so they fit well even when wearing thick socks. They should repel moisture but also be breathable to release sweat to the outside.  Socks protect your feet and keep them warm. To be effective they must transport sweet away from your feet. The best hiking socks are of a blended fabric of Merino wool with synthetic fiber such as elastane, lycra, or similar material.
Avoid excessive sweating in the summer
Especially in summer, good functional clothing is important to support body heat regulation and to avoid overheating. Hiking in summer will have you probably sweet a lot of, functional clothing with quick-drying properties that wicks excess sweat away from the body, so you don't catch a chill when resting or the wind picks up.
Obviously, loose-fitting airy shorts and shirts are the first choices in summer. But be ready for temperature changes as even in summer weather may quickly change. Have a long shirt, a warm fleece, and long pants ready. Useful are convertible hiking pants with removable legs, that can be turned into shorts or back into long pants if temperature requires.
Trekking sandals are fine if you know you got flat easy terrain. But they do not offer much protection to your feet and may not provide enough ankle support when carrying a heavy pack or hiking rocky trails. Trail runners or light hiking shoes provide more stability and support to your feet when the terrain gets demanding.
To avoid chafing and blistering, wear good hiking socks that wick away sweat and prevent damp moist feet. When resting take off your shoes and let your feet breathe, have a pair of dry replacement socks in your backpack.
Protect your head from direct sunlight, wear a sun hat or a hiking hat. This not only helps balance body temperature it also shields your head, neck, and face from the sun's damaging UV rays preventing sunburn and reducing the risk of skin cancer.
Between the seasons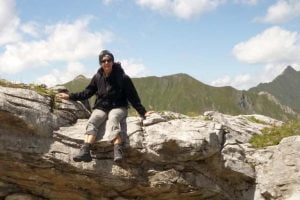 In spring and autumn temperatures can vary considerably. In direct sun, it can be pleasantly warm, while in the shady forest or in the evening it can get chili. Have a fleece and light softshell jacket in your pack that can be put on or taken off when needed. You should also have a jacket that withstands short rain showers.
In any season do not underestimate the wind chill effect should not be underestimated. In this effect, the temperature is perceived as colder due to the wind speed than it actually is.