This post may contain affiliate links. If you click on a link and make a purchase I earn a small commission at no extra cost for you.
Never mind where you hike, a camp stove is a must-have. Not in every environment is wood or other natural fuel ready at hand. A good lightweight backpacking stove allows you to cook a good meal anywhere and quickly. Especially if you had a long day hiking and it's getting late to set up your tent. But what's the best camp stove?  Whether you use a hobo stove or a white gas stove the buying choice is overwhelming. Consider the environment, the time of the year, locally available fuel. Inform yourself about regulations such as a prohibition of open fires or the availability of campsites with prepared fireplaces.
Camping stoves are divided into different categories depending on what fuel is burned
Choosing the right one amongst the best backpacking stoves is not easy and should be carefully considered. A camping cooking system consists of a cooking hob for the cookware and the fuel supply. The larger the stove the more stable it becomes for carrying larger pots and pans. Those who want to travel light should look at a lightweight backpacking stove such as the Trangia Stove Kit or similar. They weigh often only a few hundred grams and take up very little space in your pack.
Gas – propane stoves for camping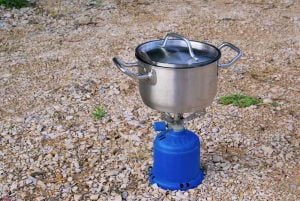 Gas cookers are the most popular used camping stoves. They are easy to use with simple and quickly adjustable flames and have a high heat output. The cookers are robust and need low maintenance. Gas cookers are sold in all sizes from small 1-burner storm stoves to large multi-flame cookers.
Advantages of a camping gas stove:
Cooking with gas is odorless and clean, the gas cannot be easily spilled. The cooking appliance is easy to clean as there are no carbon deposits.
Disadvantages:
They are not the best camp stove to be used in winter or at very low temperatures as the use of butane and other liquid-gas mixtures may become difficult. The remedy here is the use of special gas mixtures of butane, isobutane, and propane. However, these gas mixtures can become expensive. They are only used at special expeditions to extreme environments.
---
Spirit or Alcohol Camp Stove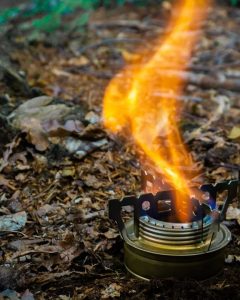 Alcohol cookers are popular among outdoor enthusiasts due to their reliability and low maintenance. Compared to other camping stoves they are very cheap to buy and operate. Alcohol stoves can be used at temperatures below freezing. However, the heat output of Alcohol fuel is only half that of gas cookers, the cooking time is longer.
Advantages of an alcohol camp stove:
Low weight and packing size and ease of use make alcohol stove very popular. They are robust, require low maintenance, are safe to use and work well at low temperatures. Fuel is widely available fuel widely available.
Disadvantages:
Alcohol has to be preheated at very low temperatures to ignite and burn properly. Burning alcohol can produce soot causing more cleaning time for cookware.
---
White Gas camp stove, the best camp stove?
A White gas camp stove is a great all-around option. The fuel is worldwide available and White Gas also known as Naphta has a high heat output. White gas stoves can be used at high altitudes and at very low temperatures. The fuel stove combines the advantages of the gas and alcohol stove. However gasoline produces soot during combustion, a white gas camp stove requires proper maintenance and it needs time cleaning cooking appliances.
Advantages of a white gas camp stove:
White gas fuel is worldwide best available and also burns at very cold temperatures at high heating power. For camping trips at high altitudes, they are just as well suited as in deep winter and low temperatures.
Disadvantages:
Gasoline stoves are slightly heavier compared to the same expensive gas cookers. They smell, handling and maintenance are complex, after using gasoline stove must be cleaned. It cannot be transported in an aircraft.
---
What is a Hobo Stove?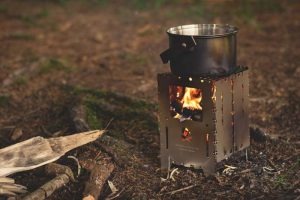 Hobo cookers are operated with solid fuel debris such as wood. They are robust and of low maintenance. Wood and debris are in nature readily available this helps you to save on weight in fuel transport. The cylindrical structure of the Hobo stove exploits the chimney effect and uses wood fuels at a much higher efficiency than a regular campfire. But as it is basically cooking on an open fire, the device may violate some fire safety regulations in forests or national parks.
Advantages of a Hobo Stove:
The availability of fuel sources in most terrains may make the Hobo stove the best camp stove to bring along a hiking trip. The simple design is also of great advantage as there is not really much that can break or malfunction.
Disadvantages:
Burning wood produces soot and smoke which leads to great wear of cooking gear and is time-consuming cleaning. In many forests and national parks, fire safety regulations may apply and the use of hobo stoves could be prohibited.
---
So what's the best camp stove?

There is actually no such thing as the best camping stove, it depends very much on where you go hiking and what time of year it is. I like to use my Trangia Stove Kit, there is everything you need, a few pots and the small practical burner and a bottle of methylated spirit last a couple of days. However, in very cold weather the Trangia has the disadvantage that it is not so easy to light, and the fuel consumption is really high. What I also like to use is my Naphta stove, which has a lot of power and heats stuff fast. But it is important to keep it clean to not have problems with soot and the nozzles can get clocked. Propane gas is very clean, but the gas cartridges that you have to carry always bother me. The most practical thing is and remains a fireplace or hobo oven. Using wood is the most environmentally friendly fuel and you can find enough of it in most areas.
Where will the stove be used, climatic conditions, altitude, low temperature?
How often do you use the camping stove? Once in the morning or for three meals a day?
Burning strong and reliable, problems with odor or soot?
The weight of stove and fuel, availability of fuel?
Low operating costs, no empty cartridges as waste?
Ease of operation, maintenance-friendly?
Operating in a closed tent?
Suitable for air travel?
Bestseller No. 1
MSR PocketRocket 2 Mini Stove Kit
An ultra-compact cook-and-eat stove kit for minimalist solo backpackers
Boils 1 liter of water in just 3.5 minutes
Pot's insulated grip allows it to serve as an eating and drinking vessel; pot lid doubles as a strainer; bowl is hot- and cold-safe
Includes PocketRocket 2 stove, .75-liter aluminum pot, 16-ounce bowl, clear lid with straining ports, ultralight mini pot lifter, stuff sack
Ultralight kit weighs just 9.9 ounces, and packs down to 4 x 4 x 5 inches; manufacturer's 3-year limited warranty
Sale
Bestseller No. 2
Bisgear 12pcs Camping Cookware Stove Canister Stand Tripod Folding Spork Wine Opener Carabiner Set Outdoor Camping Hiking Backpacking Non-Stick Cooking Non-Stick Picnic Knife Spoon Dishcloth
HIGHEST QUALITY/EASY CLEAN-aluminum pot and frying pan make it non-stick ,easy to clean.
BEST PRICE/SAVE MONEY - Bisgear 12pcs camping cookware set includes Stainless Steel Foldable Fork/Spoon(expand is 6" x 1.5" x 0.04" , folding is 3.46" x1.5" x0.04"(approx.)) + Mini Stove With Piezo Ignition + Stove Pocket + Medium Anodized Aluminum Pot(4.8" *4.1"(approx.) )+ Small Anodized Aluminum Pot(2.4" * 4.5"(approx.) ) + Canister Stand Tripod(expand is 8.46"*0.8", folding is 4.25"*0.8"(approx.))+ Dishcloth + Wine opener + Carabiner + Mesh Bag
SPACE SAVING/EASY TO CARRY- All the objects in this cooking set can be stored together in a mesh bag for space saving and convenient carry.
PERFECT GIFT FOR YOURSELF/ FAMILY- It is suitable for camping, hiking, backpacking, picnic and other outdoor activities. Lightweight and extremely durable anodized aluminum perfect for camping backpacking, buy 1 Bisgear camping cookware set, you get everything that you or your family need.
WORRY FREE WILDERNESS: Finally enjoy the great outdoors without second guessing if you packed everything to cook and serve your next meal with the lightweight, compact, and mobile design of the Bisgear Camp Kitchen Set
Bestseller No. 3
Etekcity Ultralight Portable Outdoor Backpacking Camping Stove with Piezo Ignition (Orange, 1 Pack)
Durable material: made of aluminum alloy and stainless steel which can stand high temperature and weight
Compact and collapsible: portable design (with small dimensions: 1. 81"X 2. 36" X 3. 15") is perfect for ultralight camping and backpacking. Fit for pots or pans with diameter up to 7". Come with carrying case for enhanced portability
Broad compatibility: Compatible with any 7/16 thread single butane/butane-propane mixed Fuel canisters (EN 417)
Flame control: Adjustable control valve for fast maximum heat output all the way down to a simmer quickly and efficiently
Leave no trace: adhere to "leave no trace" principles set forth by the US forest Service, bureau of land management, and national park service. Burns clean, with no debris or smooth left behind. 1 year
Sale
Bestseller No. 4
Odoland Camping Cookware Stove Carabiner Canister Stand Tripod and Stainless Steel Cup, Tank Bracket, Fork Knife Spoon Kit for Backpacking, Outdoor Camping Hiking and Picnic
Best Money Ever Spent: The 9 pieces camping cookware kit includes 1 mini stove + 2 aluminum non-stick pots + 1 spoon + 1 fork + 1 knife + 1 stainless steel cup (16oz) + 1 sillicone insulated cup protector + 2 Carry bag.
Anti-slip & anti-heat handles: The anti-slip pot handles and the silicone cup protector are all anti-heat and can effectively protect your hands from injury. One Kit meets all your needs! You will definitely be amazed by this professional outdoor camping cookware kit!
Convenient & Incredibly Durable: The mini stove can be folded to save space. So do the handles on the pots. Build with non-toxic anodized aluminum and strong structure, each pot is solid and lightweight. It conducts heat quickly and is a must-have survival gear that built to last for long time.
Easy to Carry: Foldable handles on pot or stove can be folded to save space. Small size and portable, all the objects in this cooking set can be stored together in a mesh bag for convenient carry.
Enjoy Cooking Anywhere You Go: This awesome cookware kit is designed for anyone loves outdoor camping with families and friends! It is super-portable, making it much more convenient for camping, hiking, backpacking, picnic and other outdoor activities!
Bestseller No. 5
Camp Stove,Petforu Outdoor Camping Stove Cookware Hiking Backpacking Picnic Cookware Cooking Tool Set Pot Pan + Piezo Ignition Canister Stove Propane Canister
OUTDOOR COOKING UTENSILS: Non-stick pan&pot set and collapsible piezoelectric ignition canister stove (No Gas). Designed perfectly for 1-2 person.
Camp Stove is made of aluminum alloy and stainless steel which can stand high temperature and weight; High-energy ceramic piezoelectric ignition system make it very convenience for outside camping or hiking. Compact and collapsible design combined with a carrying case for enhanced portability.
It is efficient with gas consumption (gas is not included), and this thing gets ripping if you want it to! The secondary pot can also be flipped upside down (like in the picture) and used as a lid to boil water even faster and more efficiently. The lips of each pot fit together securely, so they're plenty stable to use in unison.
CONVENIENT AND SAFE: High-energy ceramic piezoelectric ignition system makes the stove very convenient for outside camping or hiking, picnic, BBQ (Barbecue). Cookware compact and collapsible designs of combined with the carrying case or bag for enhanced portability. Excellent equipments for camping, hiking, overnight trips or any other outdoor activities.
PETFORU IS A REGISTERED BRAND: If there are any quality problems about our products, please do not hesitate to contact our customer service agents for help, thanks for your attention.
Last update on 2020-06-03 / Affiliate links / Images from Amazon Product Advertising API