Plans are made and the anticipation left to simmer through the week as a climbing trip to the New River Gorge (NRG) becomes a glorious weekend of adventure with friends in a magical place. The week feels like it drags on as you imagine yourself on ridge tops or deep in dark ravines climbing towards the top. And then the weekend finally hits and one becomes fully immersed in what is to come, the dramatic cliff lines and winding nature of the New River, the warm lakes to swim and the abundance of rock and trails to play on. A regular playground for the imagination.
Maybe it's played out, but it's something of a ritual to play 'Country Roads' once we hit the Gully river and cross into NRG territory, but we love it each and every drive. The song signals the official start of the trip, when responsibilities fade away and you start to focus on whatever it is you came down there for, the climbing and trail running for me. It's then as you drive through winding mountain roads in the hardwood rhododendron-filled forests that you realize all that matters is the present and your surroundings. With that feeling in mind, one can get lost in wild fun that is to be had in this slice of the Appalachians.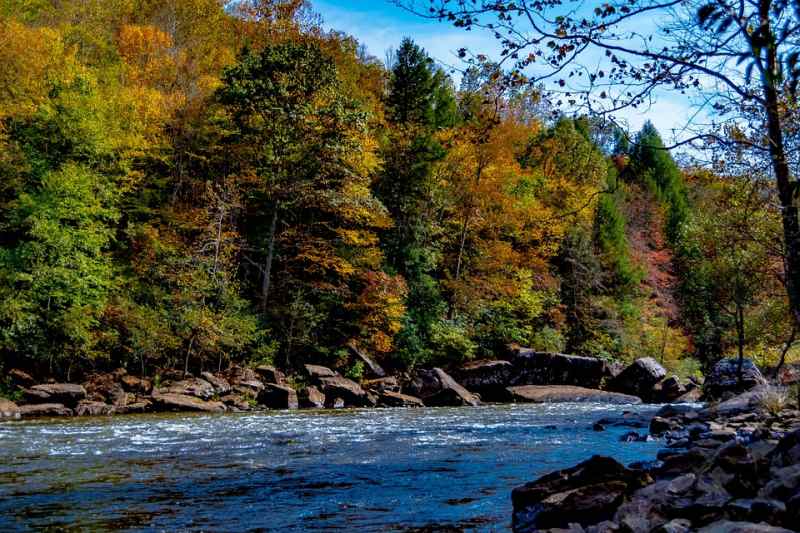 Summerville and Fayetteville
In the town of Summersville, West Virginia is Summersville lake, a giant lake with year-round climbing and summertime swimming in bathtub water. In the winter when the water level is lower, the lake boulders along the shoreline can be climbed and the walls offer more room to move around with the increase inshore area. It is usually the first stop on any trip down to the NRG as there is a cove along the lake with cliffs spanning 25ft to 60ft that you shouldn't jump off. There is a special relationship with lake authorities and it should be respected to the fullest as they allow a majority of the shenanigans climbers to participate in so long as it doesn't disturb other users. The smallest cliff has a waterfall you can swim behind and get lost looking up the rhododendron-topped cliffs and beautiful blue water pouring down from mountain streams. Once in the water, there are some fun rocks to climb and swim around before drying off in the warm sun and heading down the road to Fayetteville and the American Alpine Club campground (AAC). For a small fee (even smaller if you're an AAC member) you can have access to a tent platform in a thicket of rhododendron and the morning sun's rays, a communal fire pit, showers for pocket change, and a sink to rinse dishes which is a big convenience. They didn't have those facilities until recently and it created tension with the community when climbers were clogging up resort facilities…., literally and figuratively. The campground becomes a good basecamp to plan your trip out and the places to climb. The campsites also offer relative privacy from fellow campers which helps make it feel like you are even deeper in the forest.
That is one of the things about the area, there is a strong community there, both for the outdoor recreation and localism. So don't go barging into town waving your dick all over the place, feel it out, and follow the speed limit, the local police keep a close eye on out-of-state license plates. With that being said once you enter Fayetteville you see why John Denver wrote the song, it's a beautiful little mountain town with a great cafe and close to the AAC campground as to make it on the way from Summersville. It is a good idea to stop in town at the Cathedral Cafe, get a cup of coffee and feel the town out, maybe introduce yourself and find some other climbers who can give you a good starting point.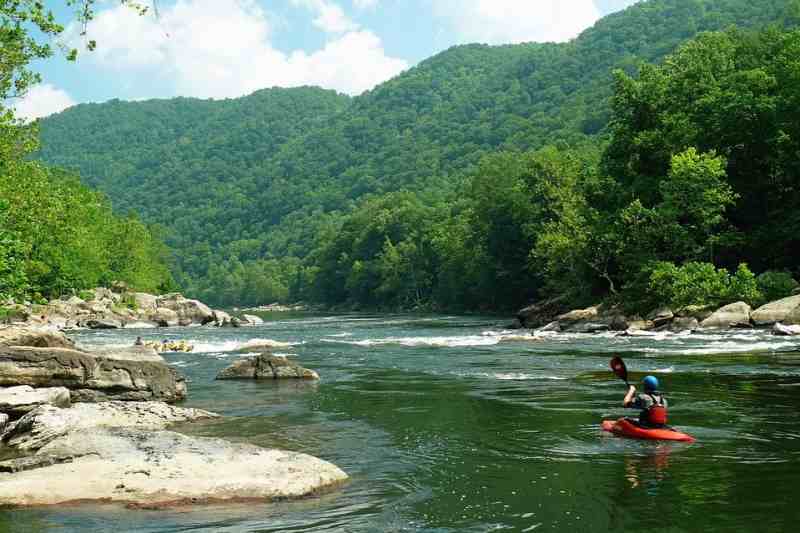 Bridge Day
The climbing and trails spread out from the campground which itself has a nice bouldering area with good workable problems of varying degrees of difficulty; a few cool dyno problems. Then there are walls within walking distance and some a little bit down the road (10 minutes) to walls that cross under the New River bridge, an awesome feature in its own right. Sidenote: once a year, base jumpers are allowed to fling themselves from the top of the bridge in what is known as bridge day, an epic event. There are many options and with all the decisions it's always best to wake up early with a good jog through trails near the campground. One in particular starts at the nearby ACE resort which plays host to several rafting outfitters, a zipline course, lodging and a pavilion that gets down on weekend nights in the summer. The trail starts in the parking lot and crosses the street onto a single track through the woods, it provides some gorgeous views of the gorge itself and is always a great warm-up to the day. Be advised though it will be a warm-up run as the mornings can be a bit chilly. A cup of coffee and subsequent trip to the bathroom before 10 A.M. and one is set to go climbing after having deliberated with partners for a little while over morning coffee.
And then on some trips it rains the whole weekend and you can't do anything you planned to do. You sit in a coffee shop and read a book or go for a cold run and deal with being wet afterward. You bitch and moan and wonder why you even decided to come down here and waste your time waiting for a whole in the weather. Something to allow the rock to dry in the wind or the sun to poke out and warm things up a bit. Trips like these you are in your head and when all there is a tent for shelter you get cramped and annoyed and that becomes something you have to deal with. Because some trips to Appalachia can be a toss-up, even if the weather forecast is good.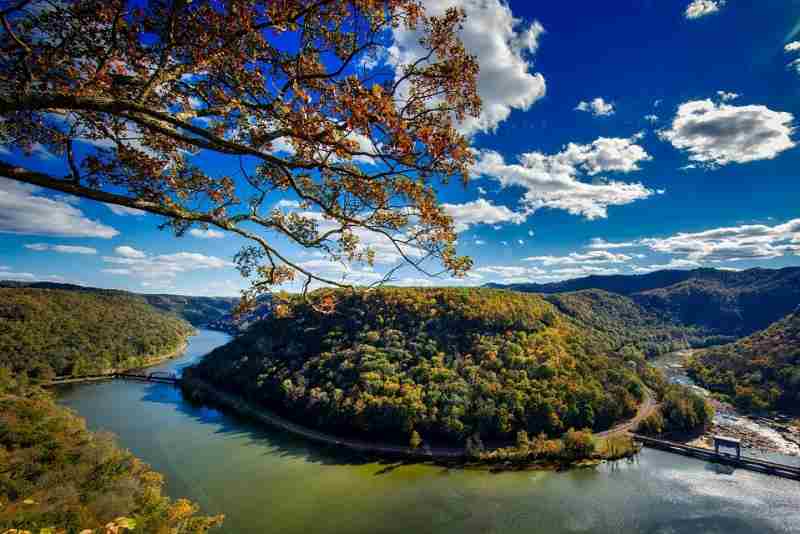 That might be the essence of adventure in the Appalachians though, you never know what you will get. And because of that you are taking all the chances you get to enjoy the sunshine, play on some rock or random trail and get into random situations you wouldn't find yourself in while staying around your town. And that's what gets you past the occasional weekends when all your plans get swamped out by the rain, yet there you are, still down in the forests and mountains of the Appalachians for the weekend. It still becomes an entertaining place in the rain despite not being able to do what you set out to do. There are other climbers hunkered down and can's or a bottle going around a somehow lit fire. You learn how to take care of expectations and go with the flow of the weekend. Maybe the rain helps you finish a paragraph you'd been writing, or finish a book you haven't picked up for months. That is why it's a special place to adventure, you can always find something creative or new to chase after or really work hard on something familiar; someone is always doing something because rain isn't an excuse to stay inside all day.
And when those blown-out trips end and maybe a few weeks later you head back down, when the sun shines it becomes all the more special because now you know what can happen. Every climb becomes its own achievement and every moment spent flying down a trail in fresh dry air is something to be cherished. Trails that lead to rocks jutting into the middle of the NRG with panoramic views to satisfy everyone.
So you take what you can in the Appalachian and enjoy the little moments, spending time with friends, seeing a sunset from the rim of the gorge, or even just driving over the New River Gorge bridge. Whatever you went down to the Appalachians for gets pushed to the back because with too much focus on achieving a goal or creating too many expectations prior to the trip you will never get to appreciate all that there is to be discovered there. A wild, wet and wonderful place.